Shopping Cart: Empty
->
Cactus & Succulents
->
Other Succulents
Beginner's Guide to Gasteria, Haworthia, Agave and other Succulent Monocots

Author: Tom Glavich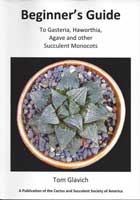 This book is a compendium of articles written as the "beginner's guide" and appeared in "To the Point", the bimonthly newsletter of the CSSA, starting in about 2000 and continuing into 2015. This is the first of two volumes, and is a collection of almost all of the articles on monocots.

Although these articles appeared in "To the Point", many of them are expansions and improvements on articles first written for the SGVCSS newsletter.
List Price: $40.00
Your Low Price: $32.00
In Stock Now!
Specific Details
Softcover: 99 pages
Illustrated
Title: Beginner's Guide to Gasteria, Haworthia, Agave
Author: Tom Glavich
Publisher: CSSA
Date: 2015
ISBN 10:
ISBN 13:
Language: English
Weight: 0 lbs 11.2 ounces