Shopping Cart: Empty
->
Palms & Cycads
Kew Pocketbooks: Palms

Author: William J. Baker et. al.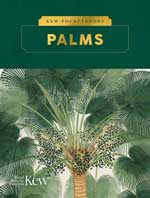 This beautiful pocketbook from Kew offers a window into the diverse and beautiful world of palms, from tropical coconut trees to smaller varieties perfect for home planters. Forty paintings of this lush group of plants are gorgeously reproduced from Kew's Library,Art and Archives, one of the most extensive botanical libraries in the world, and they illustrate the variety within each plant group, as well as the diversity of Kew's collection. An introductory chapter by Kew expert William Baker provides an overview of palms, and extended captions accompany each painting, making this gift book a charming keepsake for any frond fanatic.
List Price: $12.99
Your Low Price: $10.95
This item is on order with publisher
new orders will ship upon arrival.
Specific Details
Hardcover: 96 pages
Illustrated
Title: Kew Pocketbooks: Palms
Author: William J. Baker et. al.
Publisher: Royal Botanic Gardens Kew
Date: 2021
ISBN 10:
ISBN 13: 9781842467114
Language: English
Weight: 0 lbs 10.8 ounces