Shopping Cart: Empty
->
Cactus & Succulents
->
Cactus Only
Xerophile Cactus Photographs from Expeditions of the Obsessed

Author: Cactus Store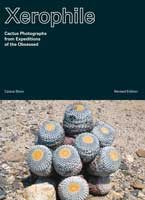 A Bolivian cactus smaller than a fingernail; a massive cardon that stands more than seventy feet tall; a warty specimen resembling a large toad; a Melocactus that looks as if it is wearing a bristly red hat. Some shrink below ground level to conserve water, others spiral toward the sky, grow along in the sand like snakes, or are draped in flowing white hair.

From the people behind Cactus Store comes Xerophile, a photographic collection of these improbable desert wonders in the wild. Drawing on the archives of twenty-five cactus obsessives–from PhD botanist to banker, art teacher to cancer researcher–this revised edition spans eighty years and features new and expanded descriptive notes for all 350+ photos.

Fueled by whispers of ancient plants on forgotten hilltops in Brazil, legends of fields of living fossils deep in the arid deserts of Chile, these explorers' relentless drive to find and document cactus in some of the most remote landscapes on earth has created an extraordinary collective body of photographic work, one which has rarely, if ever, been seen by the general public.
List Price: $40.00
Your Low Price: $29.95
In Stock Now!
Specific Details
Softcover: 352 pages
Illustrated
Title: Xerophile
Author: Cactus Store
Publisher: Ten Speed Press
Date: 2021
ISBN 10: 198485934X
ISBN 13: 9781984859341
Language: English
Weight: 2 lbs 6.4 ounces