Shopping Cart: Empty
->
Cactus & Succulents
->
Other Succulents
Pachyforms A Guide to Growing Caudiciform and Pachycaul Plants

Author: Philippe de Vosjoli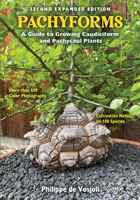 Includes updated taxonomy, photos of species in the wild and in cultivation, and notes on 180 species.

Pachyforms is a complete guide to the selection and cultivation of the increasingly popular group of plants known as caudiciforms and pachycauls, species that develop thick bodies with sculptural forms. In Pachyforms, you will find information that will allow you to grow some of the most impressive plants in the world: baobabs and boojum trees; members of the passionflower family with bodies as large and wide as a witch's cauldron; species in the cucumber family that acquire the form of flying saucers; yams with complex geometric forms; morning glories with gorgeous flowers and egg-shaped weathered bodies.

This new updated edition of Pachyforms is illustrated with more than 680 color photographs and packed with practical advice, including cultivation notes on more than 180 species.
List Price: $85.00
Your Low Price: $80.00
In Stock Now!
Specific Details
Softcover: 582 pages
Illustrated
Title: Pachyforms
Author: Philippe de Vosjoli
Publisher: Advanced Visions Inc.
Date: 2023
ISBN 10:
ISBN 13: 9780991281633
Language: English
Weight: 3 lbs 9.0 ounces