Shopping Cart: Empty
->
Cactus & Succulents
->
Cactus Only
Growing Winter Hardy Cacti in Cold/Wet Climate Conditions

Author: John N. Spain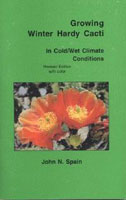 There is a growing interest in growing cacti outside in more northerly climates which are not generally associated with cacti because of their wet and cold climates. However there are a good number of species which will grow and flower under these conditions, which is not so surprising when it is realised that some species of cacti occur naturally as far north as Canada.

It is important to select the right types and also to prepare the soil conditions to give them the best chance. This book is a mine of information about the subject and includes 24 very attractive colour photographs. The diagrams of how to prepare the soil beds and other planting ideas are most helpful. The book goes into all aspects of cultivation and care and also gives details of sources where such plants can be obtained.
List Price: $20.00
Your Low Price: $15.95
In Stock Now!
Specific Details
Softcover: 71 pages
Illustrated
Title: Growing Winter Hardy Cacti
Author: John N. Spain
Publisher: Elisabeth Harmon
Date: 1997
ISBN 10:
ISBN 13:
Language: English
Weight: 0 lbs 4.4 ounces