Shopping Cart: Empty
->
Cactus & Succulents
->
Other Succulents
Monadenium

Author: Albert Pritchard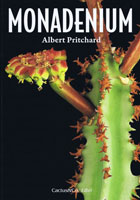 This work certainly fills a gap in the field of the succulents: the genus Monadenium, very few dealt in the literature or, often, only a chapter of very expensive publications covering several genera. Albert Pritchard offers clear notes in alphabetical order of those so interesting plants and he has been capable in finding beautiful pictures of almost of all the described species…not so easy, indeed!

The notes on the species end with simple but careful cultivation tips and an Index of names related with his proposal, agreed by several students, of putting the genus Monadenium in Euphorbia.
List Price: $45.00
Your Low Price: $29.95
This item is on order with publisher
new orders will ship upon arrival.
This title is currently inactive.
Specific Details
Softcover: 110 pages
Illustrated
Title: Monadenium
Author: Albert Pritchard
Publisher: Cactus & Co.
Date: 2010
ISBN 10: 8895018028
ISBN 13: 9788895018027
Language: English
Weight: 1 lbs 1.7 ounces