Shopping Cart: Empty
->
Palms & Cycads
Palms Throughout the World

Author: David L. Jones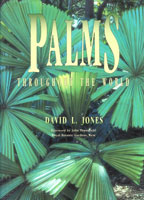 Presenting an up-to-date introduction to this complex group of plants, Palms Throughout the World describes 800 species in 123 genera and discusses the distribution, biology, propagation, cultivation, and economic importance of palms. The individual species descriptions are arranged in alphabetical order and include common synonyms and references to origin and distribution. Providing multiple species accounts for many genera, David L. Jones focuses on species that are commonly grown throughout the world, species that are collector's items and are mainly grown by enthusiasts, and species that are awaiting introduction to cultivation.

From the familiar and impressive species of Johannesteijsmannia to the dwarf and small palmlets found in the genera of Pinanga and Licuala, Jones presents an authoritative and accessible reference for botanists, horticulturists, and palm enthusiasts. Palms Throughout the World is lavishly illustrated with color and black-and-white photographs and rare engravings.
List Price: $60.00
Your Low Price: $42.00
In Stock Now!
Specific Details
Hardcover: 410 pages
Illustrated
Title: Palms Throughout the World
Author: David L. Jones
Publisher: Smithsonian Books
Date: 1995
ISBN 10: 1560986166
ISBN 13: 9781560986164
Language: English
Weight: 3 lbs 6.2 ounces