->
Cactus & Succulents
->
Cactus Only
The Genus Sclerocactus

Author: Fritz Hochstatter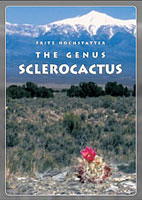 Over 465 colour photos, all species in bloom in habitat, in cultivation in bloom in Europe, 20 art drawings from each plant, 6 distribution maps, 30 SEMs, 30 zymograms, over 25 drawings (rootsystems, spines, fruits, seeds).

Contents: Distribution, checklist of endangering, overview, taxonomy of the genus Sclerocactus Britton & Rose, key of the genus Sclerocactus, of the sections Mesea-Verdae, Parviflori, Sclerocactus, of the species, subspecies, accepted names with synonyms, Isoenzyme analysis, summary of seed morphology, SEM��S of seeds, first descriptions, cultivation and winterhardy aspects, glossary, bibliography, fh - fieldnumbers (updated 2005), herbaria references (documented fh fieldnumber material is in HD, SRP) index of common names, german summary.
List Price: $138.00
Your Low Price: $88.00
This item is on order with publisher
new orders will ship upon arrival.
This title is currently inactive.
Specific Details
Hardcover: 336 pages
Illustrated
Title: The Genus Sclerocactus
Author: Fritz Hochstatter
Publisher: Author
Date: 2005
ISBN 10: 3000161538
ISBN 13: 9783000161537
Language: English
Weight: 3 lbs 12.0 ounces