Shopping Cart: Empty
->
Fungus
Psilocybin Mushrooms of the World An Identification Guide

Author: Paul Stamets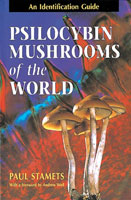 From the author of GROWING GOURMET AND MEDICINAL MUSHROOMS comes the only identification guide exclusively devoted to the world's psilocybin-containing mushrooms. Detailed descriptions and color photographs for over 100 species are provided, as well as an exploration of their long-standing (and often religious) use by ancient peoples and their continued significance to modern-day culture. Some of the species included have just been discovered in the past year or two, and still others have never before been photographed in their natural habitats.
List Price: $32.50
Your Low Price: $25.00
This item is on order with publisher
new orders will ship upon arrival.
Specific Details
Softcover: 256 pages
Illustrated
Title: Psilocybin Mushrooms of the World
Author: Paul Stamets
Publisher: Ten Speed Press
Date: 1996
ISBN 10: 0898158397
ISBN 13: 9780898158397
Language: English
Weight: 1 lbs 5.0 ounces