Shopping Cart: Empty
->
Cactus & Succulents
->
Cactus Only
All About Saguaros Facts Lore Photos

Author: Leo W. Banks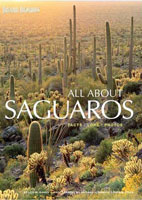 Meet the giant saguaro cactus, native of the Sonoran Desert, which with a few exceptions is the only place in the world where Carnegiea gigantea grows. Sometimes called El Gigante (the giant), the saguaro cactus provides home and food to many desert animals, as well as to peoples of desert tribes.

Discover the stages of the saguaro's long life span and see how it is a protected part of the desert ecology and culture. Color photographs vividly show this cactus at its grandest and most beautiful and at its most vulnerable.

Written in non-scientific language and reviewed by four saguaro researches to ensure technical accuracy, All About Saguaros features descriptions and photographs of the saguaro in all its stages over a life that can span 200 years and is a thoughtful gift for friends and relatives who have moved away from Arizona.

Images for this book were made by some of the Southwest's finest landscape photographers, including Jack Dykinga, Robert McDonald, Randy Prentice, Jerry Sieve, George Stocking and Tom Vezo.
List Price: $19.95
Your Low Price: $19.95
In Stock Now!
Specific Details
Softcover: 96 pages
Illustrated
Title: All About Saguaros
Author: Leo W. Banks
Publisher: Arizona Highways Books
Date: 2009
ISBN 10: 1932082913
ISBN 13: 9781932082913
Language: English
Weight: 0 lbs 11.2 ounces