Shopping Cart: Empty
->
Cactus & Succulents
->
Cactus Only
A Cactus Odyssey Journeys in the Wilds of Bolivia, Peru, and Argentina

Author: James D. Mauseth, Roberto Kiesling, Carlos Ostolaza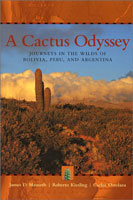 This book presents the stories of three avid field biologists who have frequently traveled together in search of cacti in Bolivia, Peru, and Argentina over the course of fifteen years. Collaborators as well as friends, the authors have written this book not only to document their field work studying, collecting, and researching those countries' most intriguing cactus species, but also to share their unforgettable experiences.

The conversational style of this travelogue allows us to share in the authors' excitement as they encounter plants that have rarely, if ever been written about. Nearly 195 remarkable color photographs accompany the vivid descriptions of unusual cacti growing in seemingly unsuitable altitudes of 8000 feet or more, and even in rain-forests! The authors' adventures come alive as they describe encounters with suddenly changing weather patterns, bad - sometimes treacherous - roads, no electricity, exotic foods, and friendly, helpful locals during their journeys.
List Price: $39.95
Your Low Price: $19.95
In Stock Now!
Specific Details
Hardcover: 306 pages
Illustrated
Title: A Cactus Odyssey
Author: James D. Mauseth, Roberto Kiesling, Carlos Ostolaza
Publisher: Timber Press
Date: 2002
ISBN 10: 0881925268
ISBN 13: 9780881925265
Language: English
Weight: 1 lbs 12.9 ounces