->
Palms & Cycads
The Palm Book of Trinidad and Tobago Including the Lesser Antilles

Author: Paul L. Cameau, Yasmin S. Comeau, Winston Johnson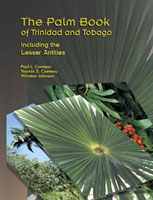 The Palm Book of Trinidad and Tobagoprovides a detailed account of the native palms of Trinidad and Tobago (and the Lesser Antilles). These palms form part of the natural heritage of this fascinating and enchanting group of southern Caribbean islands. Not since the famous taxonomist L.H. Bailey published an article in 1947 has there been a comprehensive treatment of these indigenous palms. This book provides an updated account intended to increase the awareness of this important and increasingly threatened, group of neotropical palms.

Detailed information on each of Trinidad and Tobago's 22 species of native palms is presented. The species covered include member of Euterpe, Prestoea, Attalea, Bactris, and Desmoncus and 10 other genera. Full-color photographs throughout the book illustrate each of the palms. Each species account includes, the local name(s), the geographical distribution and density, a botanical description, highlighting distinguishing features, comparisons with other similar palms, habitat preference, pollinators, and distributors, economic uses and conservation status. A distribution map shows each species' geographical range.

Additional sections of the book cover the 12 species of native palms found in the Lesser Antilles, introduced palms, native palms with peculiar distributions, a glossary, nomenclatural notes on botanical and common names, synonyms, photograph data, references cited and recommended further reading.

The Palm Book of Trinidad and Tobago has been carefully written to be accessible to all interested readers. The botanical descriptions focus on easily observable features -- the large-scale, noticeable and unique features of the palms. The native palms are grouped in general categories based on botanical, habitat and abundance features. The approach used by the authors facilitates the process of getting to know these native palms.
List Price: $56.95
Your Low Price: $56.95
This item is on order with publisher
new orders will ship upon arrival.
Specific Details
Softcover: 108 pages
Illustrated
Title: The Palm Book of Trinidad and Tobago
Author: Paul L. Cameau, Yasmin S. Comeau, Winston Johnson
Publisher: International Palm Society
Date: 2003
ISBN 10: 0974087009
ISBN 13: 9780974087009
Language: English
Weight: 0 lbs 14.5 ounces