Shopping Cart: Empty
->
Palms & Cycads
Palms of South Florida

Author: George B. Stevenson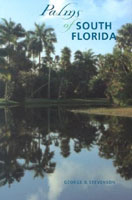 Originally published in 1974, George Stevenson's Palms of South Florida combines explanations for beginners learning to recognize palms with meticulous descriptions and drawings of palms now grown in South Florida, and information on palm botany, geography, zones, care, cold and salt tolerance, and other features, in a simple, highly accessible format that has made it a favorite for many years.

Beginners in palm study are often dismayed at the discovery that botanists do not separate the palms into categories by single characteristics but rather by long lists of criteria and that these factors are described in a jargon that that frightens off the casually interested. This is a book for those who are interested in palms but who have not mastered the highly technical method or vocabulary of the botanists. Stevenson's approach emphasizes apparent similarities that may be of more significance to the amateur than minute floral differences by which botanists determine relationships between species. And his hand drawn illustrations highlight specific features of the overall plant or of particular components that serve to identify it from its relatives.
List Price: $19.95
Your Low Price: $18.50
In Stock Now!
Specific Details
Softcover: 250 pages
Illustrated
Title: Palms of South Florida
Author: George B. Stevenson
Publisher: University Press of Florida
Date: 1995
ISBN 10: 0813014417
ISBN 13: 9780813014418
Language: English
Weight: 0 lbs 14.2 ounces