Shopping Cart: Empty
->
Regional
Guide to Deserts

Author: Andrew Warren, Tony Allan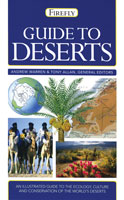 This compact reference begins by defining deserts and the climatic conditions that bring about their existence. With spectacular photographs, the authors examine the various desert landscapes and the effects that wind and water have upon these ever-changing environments. Other features include:

-An examination of the natural diversity and amazing adaptations of desert flora and fauna
-An in-depth study of desert mineral and agricultural resources
-A survey of desert peoples: their customs, their religions, the ecological and social issues they face, and their continued survival in these harsh climates
-Guidance on desert locations to visit for their important archaeological, cultural and historical features.

Guide to Deserts also includes a 150-page atlas section mapping the world's deserts region by region and charting area, resources and threats -- both natural and those caused by human beings. At home, at the office, in school or for travelers on the go, this portable guide is an ideal resource.
List Price: $19.95
Your Low Price: $9.99
In Stock Now!
Specific Details
Softcover: 2008 pages
Illustrated
Title: Guide to Deserts
Author: Andrew Warren, Tony Allan
Publisher: Firefly Books
Date: 2006
ISBN 10: 1554072131
ISBN 13: 9781554072132
Language: English
Weight: 0 lbs 11.2 ounces