Shopping Cart: Empty
->
Regional
Deserts A Firefly Guide

Author: Marco C. Stoppato, Alfredo Bini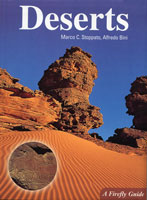 A comprehensive illustrated guide to the geology, climate and history of deserts around the world.

Deserts are among the most fascinating landforms in the world. They are found on every continent, including the polar desert on Antarctica. This concise guide -complete with quick-reference symbols, charts, and vital statistics - covers the geology of deserts, average rainfall and temperature, the formation and movement of sand dunes and the relentless process of desertification.

400 color photographs, 150 illustrations, diagrams and tables, maps, bibliography and richly informative summaries of every desert in the world.

Seven North American deserts are featured: Sonora, Anza Borrego, Death Valley, Gran Desierto de Altar, Mojave, Great Salt Lake, and Great Basin.
List Price: $24.95
Your Low Price: $15.98
In Stock Now!
Specific Details
Softcover: 256 pages
Illustrated
Title: Deserts
Author: Marco C. Stoppato, Alfredo Bini
Publisher: Firefly Books
Date: 2003
ISBN 10: 1552976696
ISBN 13: 9781552976692
Language: English
Weight: 1 lbs 2.9 ounces