Shopping Cart: Empty
->
Regional
Joshua Tree Desolation Tango

Author: Deanne Stillman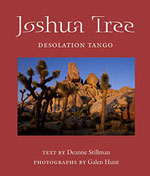 In a subtle dance of arid solitude, two southern California deserts come together at Joshua Tree National Park. One is the Colorado Desert—an extension of the Sonoran Desert—and features natural gardens of ocotillo and cholla cactus. The other end of the park engages the Mojave Desert, the special habitat of the Joshua tree as well as some of the most interesting geologic displays found anywhere. After the area became a national monument in 1936, local and regional residents were the primary visitors. As Southern California grew so did park visitation; Joshua Tree now lies within a three-hour drive of more than 18 million people. Elevated from national monument to national park status in 1994, Joshua tree now sees greater numbers of visitors than ever from around the nation and the world. For Deanne Stillman, Joshua Tree is a place of pilgrimage. Her own desert mecca, the park speaks to her in ways that no other place does. With crisp and impassioned narrative she takes the reader through the park's wonders, including a talking cactus, mysterious petroglyphs, and rocks in the shape of the late New York Yankees manager Billy Martin. Stunning photographs by Galen Hunt further accentuate the gorgeous landscape, highlighting the growing need to preserve its beauty. While it explores the park's history, geology, flora, and fauna, Joshua Tree also is a plea to walk lightly on the land, to conserve our natural heritage, and to appreciate places that call out to the soul.
List Price: $14.95
Your Low Price: $12.95
This item is on order with publisher
new orders will ship upon arrival.
Specific Details
Softcover: 96 pages
Illustrated
Title: Joshua Tree
Author: Deanne Stillman
Publisher: University of Arizona Press
Date: 2006
ISBN 10: 0816523509
ISBN 13: 9780816523504
Language: English
Weight: 0 lbs 10.7 ounces