Shopping Cart: Empty
->
Cactus & Succulents
->
Other Succulents
The Euphorbia Journal - Volume 1

Author: Various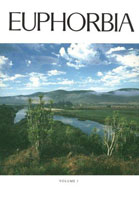 This first volume, in the 10-part series of Journal-Monographs, is recognition of the need for a central repository of information about the succulent Euphorbias.

This dramatic group of succulent plants, with a center of distribution in the deserts and land masses of of Africa, is astonishingly diverse in form, flower, and habitat, and is the focus of increasing attention by collectors worldwide. The plants range from the familiar "Crown of Throns" to the fifty foot Euphorbia ingens, which dot the plains of eastern and southern Africa.

With almost 2,000 described species of succulent Euphorbias, it is the intention of The Euphorbia Journal to photograph all of them in color, describe them, and become the identifying reference for Euphorbiaphiles the world over. In addition, articles on propagation, exploration, and collecting, and descriptions of new species are presented.

Volume 1 presents over 150 color plates and accompanying descriptions of the succulent Euphorbias.
List Price: $75.00
Your Low Price: $45.95
In Stock Now!
Specific Details
Hardcover: 130 pages
Illustrated
Title: The Euphorbia Journal - Volume 1
Author: Various
Publisher: Strawberry Press
Date: 1983
ISBN 10: 091264700
ISBN 13:
Language: English
Weight: 1 lbs 7.5 ounces