Shopping Cart: Empty
->
Cactus & Succulents
->
Other Succulents
The Euphorbia Journal - Volume 2

Author: Various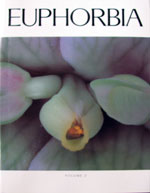 The second volume is the natural next step in the goal of photographing and describing all known succulent Euphorbias

This extraordinarily varied group of plants with remarkable forms, habitats, and flowers are the gems of succulent collections. They represent a challenge to the taxonomist, the propagator, the collector, and delight to the artist.

Volume 2 is crammed with more articles and features, new and delicious design, and the exquisite photographs of Ron LaFon as well as many world-famous contributors.

Volume 2 presents over 200 color plates and descriptions of Euphorbias in intimate detail and habitat.

Volume 2 is nearly sold out!
List Price: $65.00
Your Low Price: $65.00
In Stock Now!
Specific Details
Hardcover: 154 pages
Illustrated
Title: The Euphorbia Journal - Volume 2
Author: Various
Publisher: Strawberry Press
Date: 1984
ISBN 10: 0912647019
ISBN 13: 9780912647012
Language: English
Weight: 1 lbs 9.1 ounces