Shopping Cart: Empty
->
Cactus & Succulents
->
Other Succulents
The Euphorbia Journal - Volume 3

Author: Various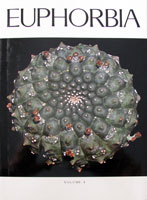 Volume 3 continues the exploration of the succulent Euphorbia of the world. The goal continues to be the photographic documentation of all the known succulent Euphorbias.

This continues to chronicle the seemingly infinite variety of structural, habitat, geographic, taxonomic, and ethnobotanic aspects of this group of plants. We include articles by contributors from around the world, each writer with areas of expertise revealing additional dimensions of this endlessly surprising genus. These articles are for the spectrum of Euphorbiaphiles, from collector to artist to scientist.

Volume 3 contains sections of Species Novae, Nomina Nuda, an interview with Frank Horwood, and much more.
List Price: $50.00
Your Low Price: $45.95
In Stock Now!
Specific Details
Hardcover: 154 pages
Illustrated
Title: The Euphorbia Journal - Volume 3
Author: Various
Publisher: Strawberry Press
Date: 1985
ISBN 10: 0912647027
ISBN 13: 9780912647029
Language: English
Weight: 1 lbs 9.5 ounces