Shopping Cart: Empty
->
Cactus & Succulents
->
Other Succulents
The Euphorbia Journal - Volume 5

Author: Various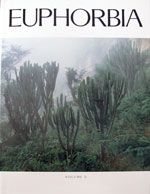 Volume 5 is the midpoint of the comprehensive examination of this extraordinary succulent family. This volume honors Larry Leach, whose work on the clarification of the taxonomy of the Euphorbiaceae adn Stapeliae, based on his extensive field work and tirelless studies, shall go far in the understanding, relationships and nomenclature of these vast families.

In addition, this continues the geographic studies with articles on the Euphorbias of Yemen, South Africa's Cape Peninsula and Namibia. Continuing series include theEuphorbias of Transvaal by Steve Fourie, and the Euphorbias of Somalia and East Africa by Susan Carter.
List Price: $50.00
Your Low Price: $39.95
In Stock Now!
Specific Details
Hardcover: 162 pages
Illustrated
Title: The Euphorbia Journal - Volume 5
Author: Various
Publisher: Strawberry Press
Date: 1988
ISBN 10: 0912647051
ISBN 13: 9780912647050
Language: English
Weight: 1 lbs 10.5 ounces