Shopping Cart: Empty
->
Cactus & Succulents
->
Other Succulents
The Euphorbia Journal - Volume 7

Author: Various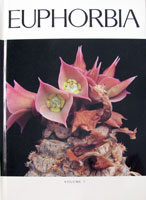 Volume 7 is dedicated to Gordon Rowley, whom we celebrate for his multifaceted, always delightful presence and many contributions. Gordon can only be described as a rare and iridescent figure in our botanical universe.

This volume continues to explore the deserts of the world and the fascinating representatives of succulent euphorbiaceae found there, with many articles by passionate collectors and authorities covering India, South Africa, Australia, Pakistan, Yemen and several other regions. We are also pleased to include Werner Rauh's original descriptions of several new species and varieties from the island of Madagascar.

In addition is the continuation of the Photographic Collection and Descriptions of Succulent Euphorbias with increasing emphasis on habitat photographs in combination with identifying close-ups.
List Price: $50.00
Your Low Price: $39.95
In Stock Now!
Specific Details
Hardcover: 170 pages
Illustrated
Title: The Euphorbia Journal - Volume 7
Author: Various
Publisher: Strawberry Press
Date: 1991
ISBN 10: 0912647086
ISBN 13: 9780912647081
Language: English
Weight: 1 lbs 10.6 ounces