Shopping Cart: Empty
->
Cactus & Succulents
->
Other Succulents
The Euphorbia Journal - Volume 8

Author: Various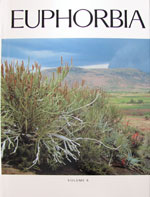 Volume 8 distinguishes three fellow succulentophiles who, with their explorations and activities, have helped stretch the horizons of our favorite plant universe: Jerry Barad, Seymour Linden, and Len Newton. Their indefatigable explorations and curiosity have allowed us to see more of those far away places that have a proliferation of succulent wonders, filling endless environmental niches in the arid regions of the world.

In addition, there is a wide variety of articles from Susan Carter, Larry Leach, Bruce Hargreaves, Paul Forster, Gerhard Marx, and Daphne Pritchard. Here, too are articles from new contributors, Roberto Mangani, Philippe Bisseret and Meena Singh.
List Price: $50.00
Your Low Price: $39.95
In Stock Now!
Specific Details
Hardcover: 154 pages
Illustrated
Title: The Euphorbia Journal - Volume 8
Author: Various
Publisher: Strawberry Press
Date: 1992
ISBN 10: 0912647108
ISBN 13: 9780912647104
Language: English
Weight: 1 lbs 8.8 ounces