Shopping Cart: Empty
->
Cactus & Succulents
->
Other Succulents
The Euphorbia Journal - Volume 10

Author: Various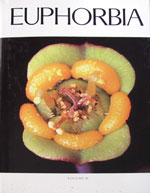 Volume 10 of the Euphorbia Journal contains articles which open new vistas and geographies. Graham Williamson contributes a major article on the essentially untouched and undocumented Richtersveld and Southern Namib desert. Also in this volume, Daryl Koutnik reviews the succulent spurges and we have articles by Ron LaFon, Werner Rauh, Mario Avolio, Daphne Pritchard, Jack Craig, Pjotr Lawant and Renee Suntjens, as well as M.S. Binojkumar and N.P. Balakrishnan. All extend our perspective of the wonderful world of succulents.

All of the above is accompanied by an even more extensive photographic panorama of exotic and beautiful euphorbias.
List Price: $55.00
Your Low Price: $39.95
In Stock Now!
Specific Details
Hardcover: 243 pages
Illustrated
Title: The Euphorbia Journal - Volume 10
Author: Various
Publisher: Strawberry Press
Date: 1996
ISBN 10: 0912647150
ISBN 13:
Language: English
Weight: 1 lbs 14.7 ounces