Shopping Cart: Empty
->
Tropicals
Flowering Plants of the Neotropics

Author: Nathan Smith, Scott A. Mori, Andrew Henderson, Dennis Wm. Stevenson, Scott V. Heald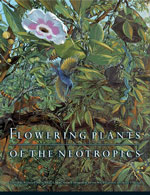 The American tropics are home to almost one-third of the world's flowering plants. This is the definitive guide to this rich diversity of flora. Unique for its fabulous color illustrations and detailed descriptions, Flowering Plants of the Neotropics represents the work of 150 botanists and covers more than 280 families of plants known to occur in the Western Hemisphere between the tropics of Cancer and Capricorn.

The expert text describes each family's features, diversity of genera and species, distribution, habitat, classification, botany, natural history, and economic uses. More than 300 color illustrations and 250 botanical line drawings illustrate these showiest of New World plants--flora that range from the deserts of Mexico and the coasts of Central America to the vast lowland rainforests of Amazonia and the cloud forests of the Andes. Some of the plants described are distributed widely; others inhabit only one of the many unusual microclimates and habitats that result from tropical America's incredible variation in elevation and rainfall and its geological change.

Both beautiful and highly informative, this volume is an ideal reference for students, professional biologists, foresters, conservationists, tourists, and all who appreciate the form and color of flowering plants.
List Price: $99.95
Your Low Price: $89.95
This item is on order with publisher
new orders will ship upon arrival.
Specific Details
Hardcover: 616 pages
Illustrated
Title: Flowering Plants of the Neotropics
Author: Nathan Smith, Scott A. Mori, Andrew Henderson, Dennis Wm. Stevenson, Scott V. Heald
Publisher: Princeton University Press
Date: 2003
ISBN 10: 0691116946
ISBN 13: 9780691116945
Language: English
Weight: 5 lbs 11.5 ounces