Shopping Cart: Empty
->
Other Titles
Geraniums and Pelargoniums

Author: John Feltwell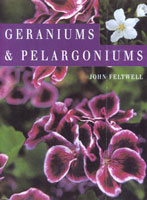 The vibrant, sun-loving plants that we call "geraniums" and that we put to use in colorful displays each summer area actually pelargoniums. They are, hoawever, related to true geraniums, which we often know as cranesbills or wild geraniums. For, despite their very different attributes, geraniums and pelargoniums belong to the same botanical family, Geraniaceae, and are among the world's most popular garden plants. Geraniums provide a splendid, easy-care, flowering ground cover in sun or shade, or add substance and color to a perennial border, while pelargoniums are spectacular, showy, plants in a brilliant range of flower types, leaf forms, colors, and scents.

Garden expert John Feltwell discusses both members of this wide-ranging family, providing all the information you need to choose, grow, propagate and design with geraniums and pelargoniums.

More than 250 full-color photographs illustrate their beauty and charm, and the extensive A-Z plant directory describes over 300 plants in detail.
List Price: $35.00
Your Low Price: $19.95
In Stock Now!
Specific Details
Hardcover: 128 pages
Illustrated
Title: Geraniums and Pelargoniums
Author: John Feltwell
Publisher: Firefly Books
Date: 2001
ISBN 10: 1552095622
ISBN 13: 9781552095621
Language: English
Weight: 1 lbs 10.1 ounces