Shopping Cart: Empty
->
Cactus & Succulents
->
Other Succulents
The Aloe of Madagascar

Author: Jean-Bernard Castillon, Jean-Philippe Castillon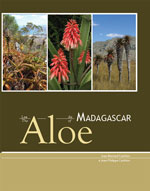 The Aloe of Madagascar is a 400 page book, bilingual English-French, copiously illustrated, resulting from a dozen years of exploration throughout the Red Island by the authors.

Since 1960, the date of publication of the last work dedicated to Malagasy Aloe (Reynolds' The Aloe of Tropical Africa and Madagascar ), more than 70 new taxa were described by numerous authors in numerous magazines, but no overall treatment of these recently described plants exists at present.

This work is there to fill up this gap.

It recapitulates the 110 species and 50 infrageneric taxa accepted today, corrects errors of synonymy, undertakes some changes of status, and in that sense may perhaps be considered as a small revision of the genus in Madagascar.

However, this book is above all intended for collectors and succulent lovers. The authors avoided long scientific descriptions, and preferred to show as many color photographs as possible (more than 1000), most often taken "in situ" and in the type localities of the plants every time it was possible. This book should so allow a quick and easy identification of the majority of Madagascan Aloe.

At last, an additional chapter dedicated to Indian Ocean Aloe, the malagasy origin of which is unquestionable, was added at the end of the book.
List Price: $185.00
Your Low Price: $165.00
In Stock Now!
Specific Details
Hardcover: 400 pages
Illustrated
Title: The Aloe of Madagascar
Author: Jean-Bernard Castillon, Jean-Philippe Castillon
Publisher: Authors
Date: 2010
ISBN 10:
ISBN 13: 9782746618725
Language: English
Weight: 5 lbs 0.0 ounces