Shopping Cart: Empty
->
Cactus & Succulents
->
Cactus Only
Iconographie Descriptive Des Cactees

Author: Gordon D. Rowley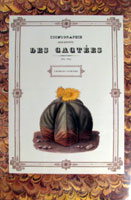 Note: This book is huge! Measures: 13 x 20 inches (33 x 50 cm)
International shipping may be higher than the amount you see at check out.

Reincarnating Lemaire's Descriptive Iconography of Cacti is rather like finding a flower believed to be extinct and coaxing it back into cultivation. Charles Lemaire set out to glorify the Cactus family in a sumptuous folio of larger-than-life color plates, one for every species, with a monograph embodying hi life's work on the plants. For a variety of reasons the dream remained a dream, and all that survives of it is a tantilizing fragment lacking title page and leaving us uncertain of the order of the parts. Variation in contents of the few surviving sets is a fair indication of the birth pangs that wracked its formative years. Yet what remains gives a vivid impression of what might have been: the superb plates drawn by M Maubert, engraved on copper by M. Dumenil, printed in color and finely retouched with a brush, as fresh and dramatic as ever, and the meticulous detailed text which shows Lemaire at his best - the master of descriptive terminology and methodical documentation.

The Library of the Natural History Museum, London, owns the most complete surviving copy of Lemaire's most ambitious work, and has permitted the present facsimile to be prepared from that. Every reasonable effort has been made to match the style and feel of the original, and Gordon Rowley has added an introduction and tabulation of plates including modern equivalent names for the 16 cacti represented. This is the first time that the originals have been made available full size and in color of a near-legendary work described in the De Belder Catalogue of 1987 as "virtually unknown in any state". It is a work that will be as much valued by botanists researching cactus history and classification as by artists seeking frameable prints of some of the most intracable and difficult subjects among all plants.
List Price: $80.00
Your Low Price: $29.95
In Stock Now!
Specific Details
Hardcover: 81 pages
Illustrated
Title: Iconographie Descriptive Des Cactees
Author: Gordon D. Rowley
Publisher: Strawberry Press
Date: 1993
ISBN 10: 0912647132
ISBN 13: 9780912647135
Language: English
Weight: 4 lbs 6.0 ounces