Shopping Cart: Empty
->
Other Titles
Leah Schwartz The Life of a Woman Who Managed to Keep Painting

Author: Leah Schwartz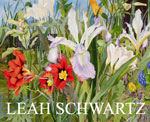 Here is a fascinating portrait of a woman who, with unfailing purpose, has lived several lives: wife, mother, house manager, domestic drudge - and passionate artist.

Leah Schwartz is an artist totally uncompromising, dedicated to the perfection of her craft, and happiest when developing new insights in painting. Her work reflects the wonder of ordinary things - people, plants, places, everyday objects - and not only reveals the reality of her subjects but captures and illuminates the very essence, the anima, the distillate.

Through her eyes and insight, she allows us to see a marvelous new world of discovery and beauty. She makes it possible to look at one's daily encounters in ways not perceived before - and this, after all, is the function of the artist.
List Price: $55.00
Your Low Price: $25.00
In Stock Now!
Specific Details
Hardcover: 294 pages
Illustrated
Title: Leah Schwartz
Author: Leah Schwartz
Publisher: Strawberry Press
Date: 1989
ISBN 10: 0912647078
ISBN 13: 9780912647074
Language: English
Weight: 3 lbs 10.6 ounces