Shopping Cart: Empty
->
Trees & Shrubs
Oaks of California

Author: Bruce M. Pavlik, Pamela C. Muick, Sharon G. Johnson, Marjorie Popper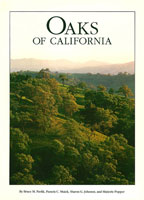 Oaks of California celebrates the unique place of these trees in California 's natural and cultural heritage. Winner of the Benjamin Franklin Award for best "Regional" book, it continues to be the definitive popular guide to California 's most emblematic tree species and is updated with each new printing.
List Price: $27.95
Your Low Price: $23.50
This item is on order with publisher
new orders will ship upon arrival.
Specific Details
Softcover: 184 pages
Illustrated
Title: Oaks of California
Author: Bruce M. Pavlik, Pamela C. Muick, Sharon G. Johnson, Marjorie Popper
Publisher: Cachuma Press
Date: 1993
ISBN 10: 0962850519
ISBN 13: 9780962850516
Language: English
Weight: 1 lbs 9.0 ounces