Shopping Cart: Empty
->
Cactus & Succulents
->
Other Succulents
Guide to Succulents of Southern Africa

Author: Gideon F. Smith, Neil R. Crouch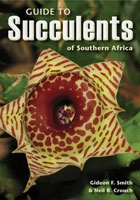 Featuring 250 of the region's most interesting and commonly encountered succulents, Guide to Succulents of Southern Africa is an accessible, user-friendly guide to the identification of these increasingly popular plants.

-Colour photographs vividly portray all the species covered.
-Authoritative text describes key identification features.
-Distribution maps show the occurrence of each species in soughern Africa.

This guide has wide appeal both for naturalists and the gardening public who are, increasingly, turning to indigeous, low-maintenance and waterwise plants.
List Price: $19.95
Your Low Price: $15.95
In Stock Now!
Specific Details
Softcover: 136 pages
Illustrated
Title: Guide to Succulents of Southern Africa
Author: Gideon F. Smith, Neil R. Crouch
Publisher: Random House Struik
Date: 2009
ISBN 10: 177007662X
ISBN 13: 9781770076624
Language: English
Weight: 0 lbs 10.4 ounces