Shopping Cart: Empty
->
Trees & Shrubs
The World of Trees

Author: Hugh Johnson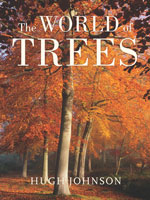 From well-loved oaks and pines to rare, spectacular species such as the snowbells of Japan, this lavishly illustrated work is an unparalleled guide to more than six hundred of the world's major forest and garden trees. An excellent resource for gardeners, botanists, and general readers alike, The World of Trees is a tribute to natural beauty by a superb prose stylist, an essential reference, and a practical guide for gardening. Hugh Johnson illuminates his subject in thorough and loving detail: the structure and life cycle of trees, how trees are named, trees and the weather, the use of trees in gardens and landscape design, and tree planting and care. The heart of the volume is a compendium of coniferous and deciduous trees grouped by family, describing and illustrating important species and varieties. It also includes a guide to choosing trees for the garden and an A-Z listing of the most important and popular species and varieties.

The World of Trees is a completely revised edition of Hugh Johnson's classic International Book of Trees featuring new photographs, systematic illustrations of all key tree parts, and current listings for the newest varieties and cultivars.
List Price: $34.95
Your Low Price: $29.95
This item is on order with publisher
new orders will ship upon arrival.
Specific Details
Hardcover: 400 pages
Illustrated
Title: The World of Trees
Author: Hugh Johnson
Publisher: University of California Press
Date: 2010
ISBN 10: 0520247566
ISBN 13: 9780520247567
Language: English
Weight: 4 lbs 1.8 ounces