Shopping Cart: Empty
->
Trees & Shrubs
Meetings with Remarkable Trees

Author: Thomas Pakenham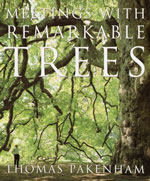 With this astonishing collection of tree portraits, Thomas Pakenham has produced a new kind of tree book. The arrangement owes little to conventional botany. The sixty trees are grouped according to their own strong personalities: Natives, Travellers, Shrines, Fantasies, and Survivors. From the ancient native trees, many of which are huge and immeasurably old, to the exotic newcomers from Europe, the East and North America, Meetings with Remarkable Trees captures the history and beauty of these entrancing living structures.

Of the native trees, the great yew at Selborne, blown down in the 1990 hurricane, but still clinging to life is believed to be centuries older than the Christian church built beside it in the thirteenth century. When it was young it might have been decorated with human heads cut off as Celtic battle trophies.

The newcomers make up in size what they lack in age: the current champion is a 100-year-old Douglas fir at The Hermitage, Dunkeld, already 212 feet high. Each tree is a living historical monument in its own right and this volume reveals a variety of sacred trees, poets' trees and fantastical trees extraordinary in both their appearance and their history.

Common to all these trees is their power to inspire awe and wonder. Meetings with Remarkable Trees is a lovingly researched book, beautifully illustrated with color photographs, engravings and maps - a moving testimonial to the earth's largest and oldest living structures.
List Price: $26.00
Your Low Price: $19.95
In Stock Now!
Specific Details
Softcover: 192 pages
Illustrated
Title: Meetings with Remarkable Trees
Author: Thomas Pakenham
Publisher: Random House
Date: 1998
ISBN 10: 0375752684
ISBN 13: 9780375752681
Language: English
Weight: 2 lbs 6.1 ounces