Shopping Cart: Empty
->
Bromeliads
Bromeliads for Home and Garden

Author: Jack Kramer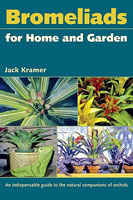 There are more than 3,000 recognized species of Bromeliads including the pineapple and Spanish moss. Bromeliads offer an array of colorful plants that are easy to care for and available in the marketplace. Further, Bromeliads make handsome companion plants to orchids as the two often grow side by side in the wild.

Bromeliads for Home and Garden provides a comprehensive overview on Bromeliad cultivation. Brilliantly illustrated with over 100 color images, this straightforward, easy-to-use guide focuses on the most popular species. Author Jack Kramer has personally grown each one of the 200 plants featured in the work, in climates as diverse as those found in Illinois, California, and Florida. He writes with clear, practical information that gardeners of any skill level can use.

The incredible variety and colorful elegance of Bromeliads offer the possibility of year-round brilliance, and many varieties thrive both indoors and out. Pick up a copy of Bromeliads for Home and Garden today to enhance your home and landscape with these exceptional plants.
List Price: $26.95
Your Low Price: $24.95
This item is on order with publisher
new orders will ship upon arrival.
Specific Details
Softcover: 176 pages
Illustrated
Title: Bromeliads for Home and Garden
Author: Jack Kramer
Publisher: University Press of Florida
Date: 2011
ISBN 10: 0813035449
ISBN 13: 9780813035444
Language: English
Weight: 0 lbs 12.3 ounces