Shopping Cart: Empty
->
Orchids
Field Guide to the Wild Orchids of Texas

Author: Paul Martin Brown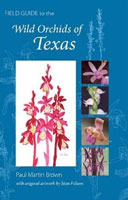 Though many may not realize it, Texas is home to some of the rarest orchid species in the world. From the Big Thicket to the Big Bend, from the Panhandle to the coastal plain, Field Guide to the Wild Orchids of Texas is the first native orchid field guide to cover each of the Lone Star State's eco-regions.

This valuable and comprehensive resource for the orchid taxonomist, dedicated enthusiast, or casual hiker and lover of the outdoors covers more than 50 species and orchid varieties, several of which are new to Texas and, in some cases, even brand-new to the orchid world. It also includes numerous color and growth forms.

This handy guide includes all the essential tools--field photographs, diagnostic line drawings, and useful reference keys--to quickly and easily identify an orchid discovered in the wild. A checklist of the state's wild orchids and charts listing optimal flowering times and distribution by region make this guide user-friendly year-round. In addition to the many insider orchid-hunting tips, botanist Paul Martin Brown recommends trip itineraries offering the fullest viewing of native orchids at their peak seasons.

Paul Martin Brown is a research associate at the University of Florida Herbarium, Florida Museum of Natural History, Gainesville, and at the Botanical Research Institute of Texas. Stan Folsom is a watercolorist, botanical illustrator, and collaborator with Brown on each of their regional orchid guidebooks.
List Price: $29.95
Your Low Price: $28.50
This item is on order with publisher
new orders will ship upon arrival.
Specific Details
Softcover: 336 pages
Illustrated
Title: Field Guide to the Wild Orchids of Texas
Author: Paul Martin Brown
Publisher: University Press of Florida
Date: 2008
ISBN 10: 0813031591
ISBN 13: 9780813031590
Language: English
Weight: 1 lbs 7.7 ounces