Shopping Cart: Empty
->
Palms & Cycads
Lexicon Palmarum A Compendium of Botanical Terms in Five Languages

Author: John Dransfield, Henk Beentie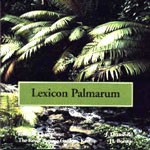 This lexicon is intended to provide an easy reference for a selection of the less familiar terms used in botanical works on palms. Primarily for the read of books in English, this lexicon will also be of assistance to the understanding of books in other languages.

Languages included are: English, French, Spanish, Portuguese, and German.
List Price: $29.95
Your Low Price: $25.95
In Stock Now!
Specific Details
Softcover: 64 pages
Illustrated
Title: Lexicon Palmarum
Author: John Dransfield, Henk Beentie
Publisher:
Date: 1996
ISBN 10: 2876550288
ISBN 13:
Language: English
Weight: 0 lbs 8.4 ounces