Shopping Cart: Empty
->
Regional
Madagascar Madagasikara

Author: Daniel Gade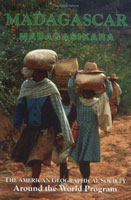 "Madagascar" presents a lucid view of an intriguing, simple, and struggling country that is unique in many respects. "There is no other place like it," states the author Dr. Daniel Glade, and readers will be extensively enlightened as they journey through this land of red landscapes, strange animals, traditional cultures blended from Indonesian and African sources, and optimism amidst social change and enormous difficulties. Gade introduces the reader first to the natural landscape of Madagascar, "The Great Red Island." while relating important categories of landforms, weather, water and vegetation to the human presence. Next, the major cultural sources and traditions of Madagascar are identified, and these are followed by a review of modern Malagasy society and economy.

The book concludes with a forward-looking assessment of the current and near future status of the island country as a member of the world community of nations.
List Price: $18.95
Your Low Price: $13.95
In Stock Now!
Specific Details
Softcover: 60 pages
Illustrated
Title: Madagascar
Author: Daniel Gade
Publisher: McDonald and Woodward Publishing Company
Date: 1996
ISBN 10: 0939923602
ISBN 13: 9780939923601
Language: English
Weight: 0 lbs 4.8 ounces