Shopping Cart: Empty
->
Other Titles
The Teeth of the Lion The Story of the Beloved and Despised Dandelion

Author: Anita Sanchez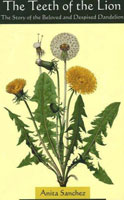 "The Teeth of the Lion--The Story of the Beloved and Despised Dandelion" is loaded with information and thought-provoking ideas, all packaged into a thoughtfully conceived, engagingly presented, easily accessible collection of focused essays that explore the natural history of the dandelion and the plant's long association with humans. Readers will come away from this book familiar with the structure and life cycle of the dandelion and the ecology of the species, but they also will learn how the dandelion has been used over thousands of years by humans, what benefits humans have derived from this association, how humans have spread the species to areas far beyond its natural range, and how the perception of the dandelion has changed "dramatically" during recent decades.

"The Teeth of the Lion" will be of interest to naturalists, botanists, environmental educators, interpreters, librarians, and anybody else in the greater public interested in quality natural history writing and becoming familiar with the natural and cultural history of a quite common and usually underappreciated element that is part of our everyday landscape. Beyond self enlightenment and satisfaction, teachers, parents, and others who work with children will find this book to be a treasure trove of information with which to use an abundantly available local resource to assist young minds in expanding their awareness of the natural world and its ecological processes.
List Price: $14.95
Your Low Price: $12.95
In Stock Now!
Specific Details
Softcover: 144 pages
Illustrated
Title: The Teeth of the Lion
Author: Anita Sanchez
Publisher: McDonald and Woodward Publishing Company
Date: 2006
ISBN 10: 093992322X
ISBN 13: 9780939923229
Language: English
Weight: 0 lbs 6.5 ounces