Shopping Cart: Empty
->
Fungus
Mushrooms for Health Medicinal Secrets of Northeastern Fungi

Author: Greg Marley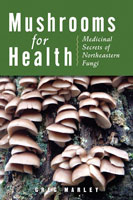 Health and alternative medicine are huge and growing areas of interest. This book will appeal to anyone who enjoys foraging and who has an interest in alternative, self-directed health care.

People across Europe and Asia have long recognized mushrooms as natural health powerhouses. Now, mycologist Greg Marley introduces 10 species found in New England (and beyond, in most cases), describing where to find and how to prepare them and listing their health-supporting benefits. According to Marley, there are no poisonous look-a-likes for any of the fungi that he identifies as beneficial.

The book is written for both the do-it-yourself forager and for those who want to be knowledgeable consumers of the wide variety of mushroom products on the market.
List Price: $15.95
Your Low Price: $11.95
This item is on order with publisher
new orders will ship upon arrival.
This title is currently inactive.
Specific Details
Softcover: 112 pages
Illustrated
Title: Mushrooms for Health
Author: Greg Marley
Publisher: Down East Books
Date: 2009
ISBN 10: 0892728086
ISBN 13: 9780892728084
Language: English
Weight: 0 lbs 10.2 ounces