Shopping Cart: Empty
->
Trees & Shrubs
Trees of Colorado

Author: Stan Tekiela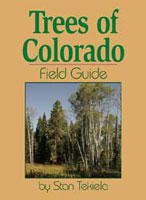 You don't need to be an expert to appreciate trees. This field guide contains everything you'll want to know, including full-page photos and detailed information about 75 species of Colorado trees, including each tree's leaves or needles, bark, mature size, fall color, state-specific range map and more.
List Price: $12.95
Your Low Price: $11.01
This item is on order with publisher
new orders will ship upon arrival.
Specific Details
Softcover: 168 pages
Illustrated
Title: Trees of Colorado
Author: Stan Tekiela
Publisher: Adventure Publications
Date: 2007
ISBN 10: 1591931983
ISBN 13: 9781591931980
Language: English
Weight: 0 lbs 5.6 ounces