Shopping Cart: Empty
->
Orchids
Orchids of Australia

Author: John J. Riley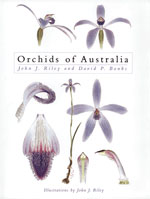 More than 80% of Australia's lavishly abundant species of native orchids are found nowhere else in the world. With their delicate beauty, often brilliant colors, bizarre shapes, and wondrous biological relationships, they have attracted a dedicated following of passionate devotees. This magnificently illustrated, up-to-date, and authoritative book covers 150 of the most well known and widespread species as well as many that are extremely rare or were only recently described. These include both terrestrial and arboreal orchids from all parts of this fascinating continent.

John Riley's drawings are not only beautiful but masterpieces of meticulous accuracy: all are anatomically exact, representing the finest collection of illustrations of this flora published to date. The concise text, by David Banks with contributions from Riley, complements the drawings with precise, pertinent information.

Each species description consists of a full page of color illustrations of all key parts with a page of text opposite. The orchid genera are arranged alphabetically and, where appropriate, separated into informal groupings. Within each genus, the species appear in chronological order of their scientific description. Closely related taxonomic groups are therefore presented together, for easier comparison.

Orchids of Australia will become a benchmark among the burgeoning numbers of orchid lovers, growers, and specialists worldwide, combining the most up-to-date nomenclatural treatment of Australia's indigenous orchids with superb, highly detailed, full-color illustrations.
List Price: $110.00
Your Low Price: $99.95
This item is on order with publisher
new orders will ship upon arrival.
Specific Details
Hardcover: 320 pages
Illustrated
Title: Orchids of Australia
Author: John J. Riley
Publisher: Princeton University Press
Date: 2003
ISBN 10: 0691114900
ISBN 13: 9780691114903
Language: English
Weight: 4 lbs 12.0 ounces