Shopping Cart: Empty
->
Cactus & Succulents
->
Cactus Only
Studies in the Opuntioideae

Author: D. Hunt & N. Taylor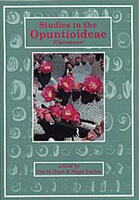 Systematic implications of chloroplast DNA sequence variation in the Opuntioideae (Wallace & Dickie);
Seed characters and the classification of the Opuntioideae (Stuppy);
Realignment and revision of the Opuntioideae of Eastern Brazil (Taylor, Stuppy & Barthlott);
The Andean opuntias: An annotated checklist of the indigenous non-platyopuntioid opuntias of South America (Iliff);
That's Opuntia, that was! (Hunt);
Alphabetical list of currently accepted species (Hunt).

List Price: $49.95
Your Low Price: $39.50
In Stock Now!
Specific Details
Softcover: 256 pages
Illustrated
Title: Studies in the Opuntioideae
Author: D. Hunt & N. Taylor
Publisher: dh Books
Date: 2002
ISBN 10: 095381341X
ISBN 13: 9780953813414
Language: English
Weight: 1 lbs 7.0 ounces