Shopping Cart: Empty
->
Cactus & Succulents
->
Other Succulents
Medicinal Plants of South Africa

Author: Ben-Erik van Wyk, Bosch van Oudtshoorn, Nigel Gericke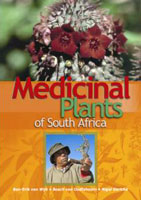 A photographic guide to the most commonly used and best known South African plant medicines, including their botany, main traditional uses and active ingredients.

This second edition has been fully updated to incorporate the latest research findings. The book includes:

Detailed species descriptions of more than 150 medicinal plants and their close relatives, or other species used in a similar way. Each entry includes the following information: a description of the plant, the plant parts used, medicinal uses, preparation and dosage, active ingredients and pharmacological effects.
In addition, each entry includes a distribution map and a diagram of the chemical structure of the main active ingredient
More than 500 excellent photographs of the plants, plant parts used and products
Introductory chapters on, among others, cultural aspects of healing, methods of collection and storage, methods of preparation and administration
A plant list according to ailments
A glossary, detailed index and comprehensive references for further reading
This remarkable book is a must for anyone with an interest or involvement in health care and botany.
List Price: $41.95
Your Low Price: $35.95
In Stock Now!
Specific Details
Hardcover: 336 pages
Illustrated
Title: Medicinal Plants of South Africa
Author: Ben-Erik van Wyk, Bosch van Oudtshoorn, Nigel Gericke
Publisher: Briza Publications
Date: 2011
ISBN 10: 1875093370
ISBN 13: 9781875093373
Language: English
Weight: 2 lbs 3.0 ounces