Shopping Cart: Empty
->
Orchids
Field Guide to the Orchids of Northern S.A. and Swaziland

Author: Douglas McMurtry, Lourens Grobler, Jolisa Grobler and Shane Burns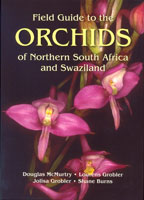 New book from Umdaus Press, authored by four authorities on the subject, Douglas McMurtry, Lourens Grobler, Jolisa Grobler and Shane Burns. Detailed description of 210 orchid species, more than 1300 colour photographs, distribution maps, flowering times, reproductions of 10 exquisite water colour paintings by Wilna Layden. 486 pages, bound in a sturdy laminated soft cover.
List Price: $70.00
Your Low Price: $65.00
This item is on order with publisher
new orders will ship upon arrival.
Specific Details
Softcover: 486 pages
Illustrated
Title: Field Guide to the Orchids of Northern S.A. and Swaziland
Author: Douglas McMurtry, Lourens Grobler, Jolisa Grobler and Shane Burns
Publisher: Umdaus Press
Date: 2008
ISBN 10: 1919766464
ISBN 13: 9781919766461
Language: English
Weight: 2 lbs 4.6 ounces