Shopping Cart: Empty
->
Fungus
Macrofungi Associated with Oaks of Eastern North America

Author: Denise Binion, Dr. Steve Stephenson, William Roody, Dr. Harold H. Burdsall, Jr., et. al.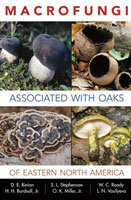 Macrofungi Associated with Oaks of Eastern North America, which was written as a companion to Field Guide to Oak Species of Eastern North America, represents the first major publication devoted exclusively to the macrofungi that occur in association with oak trees in the forests of eastern North America. The macrofungi covered in this volume include many of the more common examples of the three groups—mycorrhizal fungi, decomposers, and pathogens—that are ecologically important to the forest ecosystems in which oaks occur. More than 200 species of macrofungi are described and illustrated via vibrantly colored photographs. Information is given on edibility, medicinal properties, and other novel uses as well. This publication reflects the combined expertise of six mycologists on the macrofungi anyone would be likely to encounter in an oak forest.
List Price: $44.95
Your Low Price: $43.00
In Stock Now!
Specific Details
Softcover: 468 pages
Illustrated
Title: Macrofungi Associated with Oaks of Eastern North America
Author: Denise Binion, Dr. Steve Stephenson, William Roody, Dr. Harold H. Burdsall, Jr., et. al.
Publisher: West Virginia University Press
Date: 2008
ISBN 10: 193320236X
ISBN 13: 9781933202365
Language: English
Weight: 2 lbs 7.6 ounces