Shopping Cart: Empty
->
Trees & Shrubs
Growing Shrubs and Small Trees in Cold Climates Revised and Updated Edition

Author: Debbie Lonnee, Nancy Rose, Don Selinger, John Whitman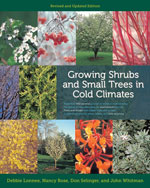 This completely updated edition of Growing Shrubs and Small Trees in Cold Climates now features:

-more than 950 varieties proven to thrive in cold climates

-hundreds of new selections for multi-season interest

-trees and shrubs with edible fruits and berries

-guidance on exactly when, where, and how to prune

This easy-to-use guide provides all the information needed to select the trees and shrubs ideally suited to your area's growing conditions. A five-star rating system will help you choose the best plants, and detailed lists of suppliers show you where to locate them.
List Price: $39.95
Your Low Price: $30.05
In Stock Now!
Specific Details
Softcover: 448 pages
Illustrated
Title: Growing Shrubs and Small Trees in Cold Climates
Author: Debbie Lonnee, Nancy Rose, Don Selinger, John Whitman
Publisher: University of Minnesota Press
Date: 2011
ISBN 10: 0816675945
ISBN 13: 9780816675944
Language: English
Weight: 3 lbs 6.7 ounces