Shopping Cart: Empty
->
Orchids
Field Guide to Ethiopian Orchids

Author: Sebsebe Demissew, Phillip Cribb, Finn Rasmussen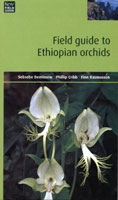 Ethiopia's orchids are sparsely represented in herbaria and their biology, ecology and conservation status remains poorly understood. Written by leading orchid specialists, and with detailed descriptions, keys, line drawings, distribution maps and color photographs, this new field guide will be an invaluable identification tool, providing urgently needed help in clarifying the status of these wonderfully diverse plants, many of which are rare or endangered.

125 x 215 mm. Color photos; line drawings; distribution maps.
List Price: $58.00
Your Low Price: $52.00
In Stock Now!
Specific Details
Softcover: 300 pages
Illustrated
Title: Field Guide to Ethiopian Orchids
Author: Sebsebe Demissew, Phillip Cribb, Finn Rasmussen
Publisher: Royal Botanic Gardens Kew
Date: 2004
ISBN 10: 1842460714
ISBN 13: 9781842460719
Language: English
Weight: 1 lbs 3.4 ounces