Shopping Cart: Empty
->
Palms & Cycads
A Field Guide to the Rattans of Lao PDR

Author: Tom D. Evans, Khamphone Sengdala, Oulathong V. Viengkham and Banxa Thammavong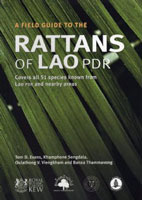 A practical, pocket-sized field guide to all the species of rattans (climbing palms) in Lao PDR and neighbouring parts of Indochina. In total 51 species are described, 31 in detail with colour photographs, distribution maps and detailed drawings to aid identification.

Additional sections cover planting, cultivation and the collection and preservation of herbarium specimens. This is an indispensable source of information for collectors, and for all those interested in the commercial exploitation of rattans and their conservation. English text.
List Price: $28.00
Your Low Price: $25.00
In Stock Now!
Specific Details
Softcover: 96 pages
Illustrated
Title: A Field Guide to the Rattans of Lao PDR
Author: Tom D. Evans, Khamphone Sengdala, Oulathong V. Viengkham and Banxa Thammavong
Publisher: Royal Botanic Gardens Kew
Date: 2001
ISBN 10: 1842460099
ISBN 13: 9781842460092
Language: English
Weight: 0 lbs 7.7 ounces