Shopping Cart: Empty
->
Palms & Cycads
Field Guide to the Rattans of Africa

Author: Terry Sunderland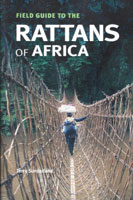 Africa's rattans are the basis for many rural crafts and economies and urban based industries, and have the potential to become a major crop on the world markets as a non-timber forest crop. Written for the worker in the field, whether scientist, forester or farmer, Field Guide to the Rattans of Africa is a simple easy to use guide to all 22 species found in Africa, their ecology and distribution, and their sustainable management.

Species descriptions are based largely on leaf and stem characteristics – not flowers and fruits – and are extensively illustrated with more than 120 color photographs, meticulous line drawings and distribution maps.

Colloquial, vernacular and common names are included, with notes on local uses, trade and conservation status. And to aid the botanist collecting specimens, some very practical advice on handling plants for the herbaria is included.

234 x 156mm. 120 color photographs. Line drawings, distribution maps.
List Price: $40.00
Your Low Price: $36.50
In Stock Now!
Specific Details
Softcover: 68 pages
Illustrated
Title: Field Guide to the Rattans of Africa
Author: Terry Sunderland
Publisher: Royal Botanic Gardens Kew
Date: 2007
ISBN 10: 184246180X
ISBN 13: 9781842461808
Language: English
Weight: 0 lbs 6.3 ounces