Shopping Cart: Empty
->
Palms & Cycads
World Checklist of Palms

Author: Rafael Govaerts, John Dransfield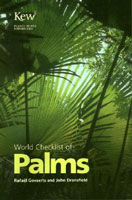 The palm family, considered to be second only to the grasses among monocotyledonous plants of economic importance, is of immense significance to man, especially among rural communities in the tropics, where wild palms are intensively utilized.

The 'World Checklist of Palms' is the unique resource that lists all validly published names of palms, providing the source of their publication and indication of which names are currently accepted and which are synonyms. Geographical distribution is also included for all accepted species.
List Price: $33.00
Your Low Price: $29.50
In Stock Now!
Specific Details
Softcover: 236 pages
Title: World Checklist of Palms
Author: Rafael Govaerts, John Dransfield
Publisher: Royal Botanic Gardens Kew
Date: 2005
ISBN 10: 1842460846
ISBN 13: 9781842460849
Language: English
Weight: 0 lbs 11.8 ounces