Shopping Cart: Empty
->
Cactus & Succulents
->
Other Succulents
Guide to the Aloes of South Africa Reprint

Author: Ben-Erik van Wyk, Gideon Smith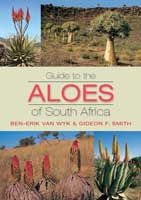 Guide to the Aloes of South Africa is a beautifully illustrated full-color guide that makes it easy for both the layperson and scientist to identify aloes found in the field and in gardens. The book includes:

Detailed species descriptions of all 155 aloes found in South Africa, with information on the plant's features, flowering period, habitat and distribution, conservation status, the origin of its scientific and common names, as well as general notes on cultivation and traditional uses of the plant.
More than 400 color photographs, showing habitat and growth form, as well as close-up photographs of flowers and leaves, and distribution maps of all the species.
An easy-to-use identification system based mainly on growth habit.
Introductory chapters that focus on aloe-like plants; medicinal, cosmetic and tonic use of aloes; conservation; cultivation and propagation; gardening and landscaping with aloes; pests and diseases; and aloe hybrids.
Indexes to scientific and common names, an illustrated glossary and further reading.
400 color photographs, distribution maps
List Price: $38.95
Your Low Price: $35.95
In Stock Now!
Specific Details
Hardcover: 376 pages
Illustrated
Title: Guide to the Aloes of South Africa
Author: Ben-Erik van Wyk, Gideon Smith
Publisher: Briza Publications
Date: 2011
ISBN 10: 192021738X
ISBN 13: 9781920217389
Language: English
Weight: 2 lbs 0.0 ounces